by Wafi Habib '22
A mesmerizing concoction forms as Kayla Manzi dashes more edible glitter into a glass, turning the once-red liquid into an iridescent scarlet shade. "This is the Marilyn," she said. "Monroe loved cherry drinks so I named this after her."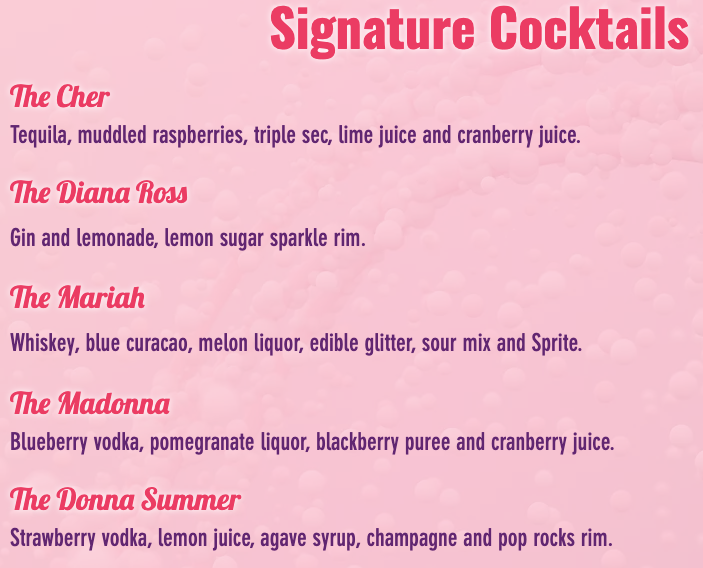 The colorful lighting turns everything inside the bar a shade of pink. This rosy glow seeps out the front windows and onto the surrounding street, luring patrons to come in and see what this magical place is. The Majestic Saloon – a queer bar in Northampton – is owned by Kayla Manzi, who is part of the new management team running the bar after reopening in May 2021.
Originally from Ludlow, Massachusetts, Manzi started her career in the food industry by working at a country club at the age of 21. Being thrown into it without proper training, she had to learn the ins and outs of working in food service by herself. "It was either sink or swim, and I was determined to swim," she said. Eventually Manzi moved to work at Outback Steakhouse, where she learned the most about the food service industry from. "The training program was incredibly extensive," she shared. "They are a well-oiled machine and I learned so much more from them than at my previous job."
Realizing she particularly enjoyed bartending, Manzi moved again to work at Tunnel Bar, one of the oldest and most popular cocktail bars in Northampton. She also worked part-time at Platform, a nightclub in Northampton. Through this, she found a balance between making upscale cocktails and making quick drinks for the dance floor. "I was able to familiarize myself with different combinations and also see which drinks were the most popular," Manzi shared. "I would come up with drinks and write them down, with no intention of ever making my own menu."
It was at Tunnel Bar that Manzi first met Phil Peake, the previous owner of the Majestic Saloon. One night, Peake shared to her that he was not intending to re-open the bar after Covid had shut it down. Initially opening in May 2019, there was an effort by Peake to fundraise and try to keep the Saloon open, but sadly it wasn't enough. With no opening in sight, the bar was shut down in the summer of 2020, after being open for less than a year.
Manzi realized that this was an opportunity to run her own bar and continue doing what she loves most. After discussing more with Peake in April 2021, the both of them came upon an agreement and they were on their way to re-opening the Majestic Saloon under new management.
First things first, Manzi knew she wanted the bar to get a major revamp. Being one of the only women in Northampton to own a bar, Manzi knew she wanted to make the space stand out amongst the rest. "Almost all the bars in Northampton are owned by men," she said. "So I wanted to make the bar anything but traditionally masculine and femme it up completely."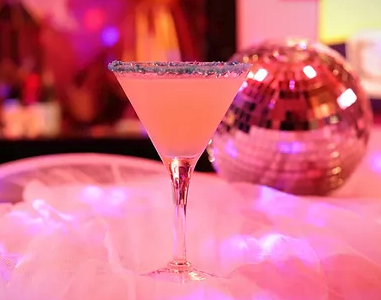 Manzi started by painting the grey walls a bright pink. Next, she named all the drinks on the menu after accomplished divas that are iconic in the queer community: The Cher, The Mariah, The Diana Ross, The Madonna, or The Beyoncé, to name a few. Manzi finally got the chance to live out her dream of doing what she loves most: bartending. "You basically get to host your own party every night," she said. "I wanted to help create a safe space for everybody at the Majestic Saloon, so you feel part of a community. At other bars, you can sometimes feel more like a fly on the wall."
Officially reopening in May 2021, Manzi was excited about this new chapter of her life. But the opening was far from perfect. "The first couple of months were rough," she shared. "All over social media, we were getting ripped apart. People were jumping to conclusions and saying that the new owner of the bar wasn't queer anymore." Although Manzi is engaged to a man, she identifies as pansexual. "I was assumed straight," she said. "It was a hard couple of months seeing people all over social media try to tell me I wasn't queer enough."
Manzi was open to talk with people in the local community who were apprehensive to visit the Majestic at first. "I met the owner of Bishop's Lounge who was one of the people who trashed us on social media," she said. "We ended up hitting it off right away and they ended up giving us a shout out." Eventually, the longer the bar was open and the more everybody got to know the new management team – all of whom are LGBTQ – the more everybody opened up to them. "Once people realized it wasn't some random straight couple running the bar, people gave us a second chance."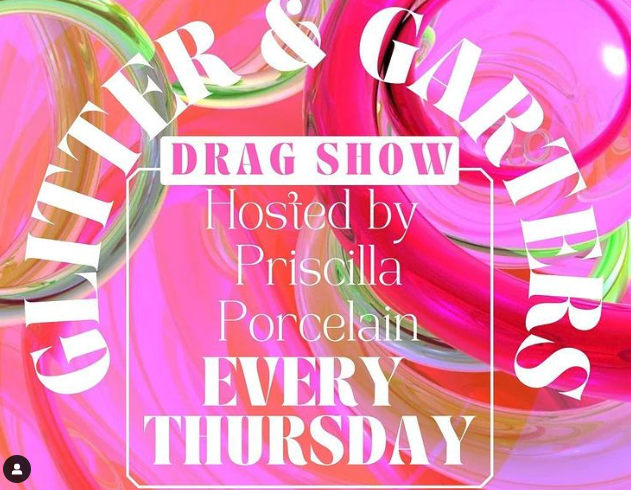 Since the start of 2022, the Majestic Saloon has been at capacity every night. "It's been so incredible to see the amount of support we're getting," Manzi said. "Especially after the bumpy start, I wasn't sure if we were going to make it." Moving forward, Manzi is looking to expand the menu to start serving food. From pretzels, charcuterie boards, sandwiches, and 'hawt' dogs, she is currently preparing a menu for the summer. To refine the menu, Manzi is going to take a break from bartending to focus just on the food. Manzi also made it clear that she is looking into the most important addition. "We've been listening and we hear you all loud and clear," she said. "We will be adding a Lady Gaga drink."
Essentials: Stop by the Majestic Saloon in Northampton if you're looking for a space for queer people, or if you just want to visit a distinctive bar with colorful cocktails. They are open Sunday to Thursday from 7pm to 12am and Friday to Saturday from 7pm to 2am. Find out more on their website at majesticsaloon.com or on Facebook and Instagram @TheMajesticSaloon.